Are you looking for a dream destination for a romantic getaway in northern Italy with your better half? There is certainly no shortage of romantic places in northern Italy and we are sure they are already flowing through your mind, like frames, images from the most classic and well-known romantic cities in northern Italy: Venice, with its calli (streets) and its canals by gondola, and Verona, the city of lovers par excellence, the place where Shakespeare set one of his most famous tragedies, namely Romeo and Juliet.
Yes, it is undeniable, they are both beautiful romantic cities in Italy, rich in art and history, which offer visitors the opportunity to combine relaxation, cultural visits and unforgettable moments as a couple. However, we ask you to immediately pause this movie and reset your mind, because to be honest our ideas for a romantic weekend in northern Italy do not include these destinations at all! And we ask you to trust us because we have an equally idyllic destination in store for you! Are you ready to discover where?
Romantic destinations Italy: discovering the Ligurian Riviera in luxury cars.
Riviere, just a few blades of grass hanging from a ledge on the delirium of the sea or two pale camellias in the desert gardens, and a blond eucalyptus that dives into the rushes and crazy flights in the light [...]. Have you ever read these verses? They were written by a boy destined to become one of the greatest Italian poets and to win the Nobel Prize for literature 1975. A boy who, at the beginning of the twentieth century, spent his childhood and youth between his native Genoa and the splendid town of Monterosso, in the Ligurian Cinque Terre. We are referring to Eugenio Montale, and his words were dedicated to the Riviera di Levante.
And it is exactly from the Riviera di Levante - and more precisely from Portovenere - that we start your romantic weekend in northern Italy, to let you end it in another of the most famous romantic places in Italy - Alassio, located in the Riviera di Ponente - passing through the famous Portofino.
Maybe you can't even imagine how wonderful it can be to travel the Ligurian coast in a classy car like the ones you can rent from the Italian Luxury Car Hire Group and to collect it wherever you prefer: at your home before departure, upon your arrival at your destination, both in the hotel or in the city centre. Your wish is our command! You can choose from many different models of Italian luxury cars (and not only) and amaze your partner: we are sure that both of you will long carry in your heart the memory of the romantic weekend in northern Italy experienced in this way.
Without further ado, the journey from one of the most famous romantic places in northern Italy finally begins!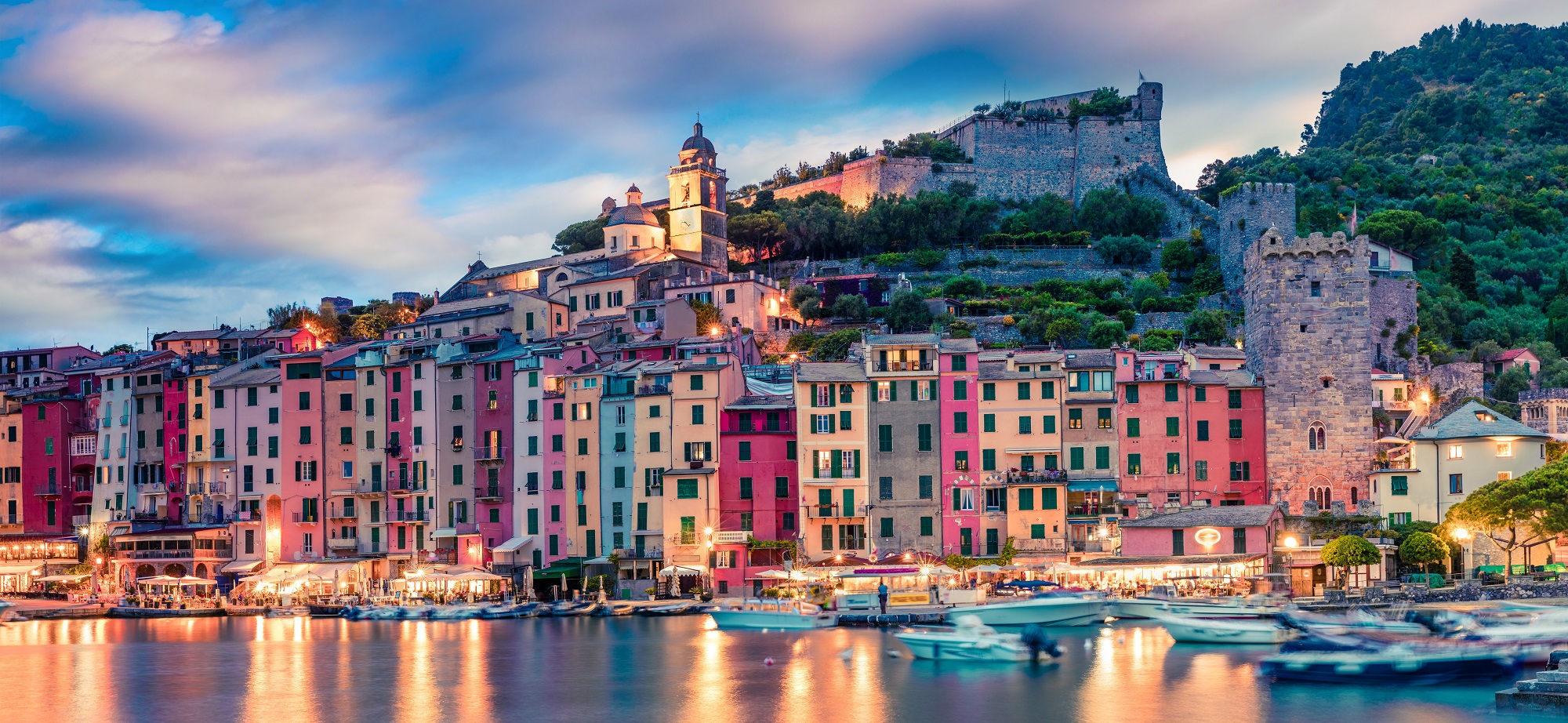 Romantic places in northern Italy: from Portovenere to Alassio, via Portofino.
Located at the western end of the Gulf of La Spezia - also known as the Gulf of Poets, for having given hospitality to many poets, writers and artists over the centuries - the seaside village of Portovenere will conquer you with its cobbled streets and its hidden corners. The climb at sunset to the Church of S. Pietro is not to be missed: a marvel embedded in rock, where you can enjoy a suggestive view that embraces the Gulf on one side, and the living rock overlooking the sea - under which the Grotto Arpaia is located - on the other. Believe us, this spectacle of nature would be enough to assign Portovenere the sceptre of the most romantic place in Italy!
Reluctantly leaving Portovenere, it's time to get back on board your luxury car, to take the road again and head towards Santa Margherita Ligure. Here you can park because the best way to reach Portofino with your partner is the so-called Passeggiata dei Baci: a route that, giving you panoramic postcard views, will lead you directly to the place always preferred by the international jet set, with its famous square, meeting point and beloved place for countless couples.
Finally, your romantic weekend in northern Italy will find its worthy conclusion in Alassio, the pearl of the Riviera di Ponente which since 2007 also boasts the title of City of Lovers. One of its most renowned symbols is the "Muretto", a colourful mosaic of ceramic tiles bearing the signatures of many celebrities: from Ernest Hemingway to Vittorio De Sica, from Salvatore Quasimodo to Gino Bartali, from Louis Armstrong to Dario Fo. Today the Muretto has about 1000 tiles, which are destined to increase over time. In the same square of the Muretto there is the famous work Les Amoureux by Raymond Peynet, the bronze statue of The Lovers by Eros Pellini, the Steel Swans by Umberto Mastroianni and the mailbox from the contest "the most beautiful love letter", which on 14 February is filled with letters and love poems from all over Europe.
It is worthwhile – in one of the most romantic places in Italy - to look for someone who can tell you the story of Adelasia and Aleramo: if until now you thought that only Romeo and Juliet had fallen in love with someone unaware of their respective families, you will see how the case is not unique. We only anticipate that unlike the unfortunate Shakespearean lovers, the happy ending here is assured: a good omen if someone in your life is trying to oppose your love in every way!